Commissioner James Vafeades
James Vafeades [Commissioner Of Police]
Our mission is to provide quality policing to the residents and visitors of our great Village. Crime rate in the Village continues to be at historic lows. Rockville Centre remains one of the safest communities in the Metropolitan area.
The Department maintains accreditation by New York State Division of Criminal Justice Services, one of the few agencies in the Metropolitan Region. This requires a strict, aggressive training program which benefits the community in that more highly trained and sophisticated members are responsible for the safety of the community and service to our residents. The Police Department remains committed to keeping Rockville Centre safe and maintaining a good quality of life for the residents.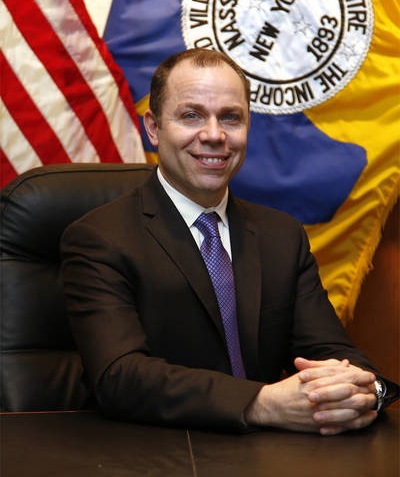 At a time when many police departments come under attack nationally, I want to thank the members of this community for the support they show their police. I receive a great deal of correspondence from residents and visitors praising the efforts of our members. I can assure you that this Police Department is truly committed to protecting the residents and visitors of our community. I applaud the efforts of those who involve themselves with the Neighborhood Watch Program. It is an effort to open lines of communication between the residents and their police. It can only work if there is involvement by the community.. If we work together we can all make this community better.
A challenge we all face nationally is increased substance abuse. Children at an early age are experimenting with alcohol, marijuana, and prescription drugs, which leads to the opiate epidemic the country is currently experiencing. A child that abuses these substances at an early age is more apt to experience substance dependency in later life. There are people out there who make a living on getting your children hooked on these substances. Not only bad kids get involved with substance abuse; good kids get involved through naivety or peer pressure (not always friends) and it can create devastating results for a family. Your Police Department is committed to ridding the Village of illegal drugs. We have very experienced narcotic investigators.
I am a firm believer that our residents are a force multiplier for the police. As I always state, "… if you see something that is not right, call us". We go on many unfounded calls during the year but we have had calls to our department that have had very successful conclusions due to an alert citizen. Let us decide if the call is warranted or not. If you think it is suspicious, it is. Let us check out the circumstances.
Thank you again for the support you provide your Police Department. Let's all work together to keep this community the great Village that it is.